Super elastic Niti Archwires,
10 Pcs / Pack
Super elastic NiTi wire is our most popular archwire. The light, consistent forces exerted by super elastic Nickel Titanium makes it an ideal choice for early to mid-stage treatment where levelling, torque, and rotation control can be addressed simultaneously with the use of rectangular wires. The polished surface reduces friction and improves sliding mechanics.
Due to its high elasticity and resiliency, our Super Elastic Nickel Titanium wire recovers perfectly from bends and deformation, with a high resistance to permanent set.
Laser marked midlines
Features :
Light, continuous force for efficient tooth movement
High elasticity, fully austenitic at room temperature
Polished finish for reduced friction
Excellent resiliency, high resistance to permanent set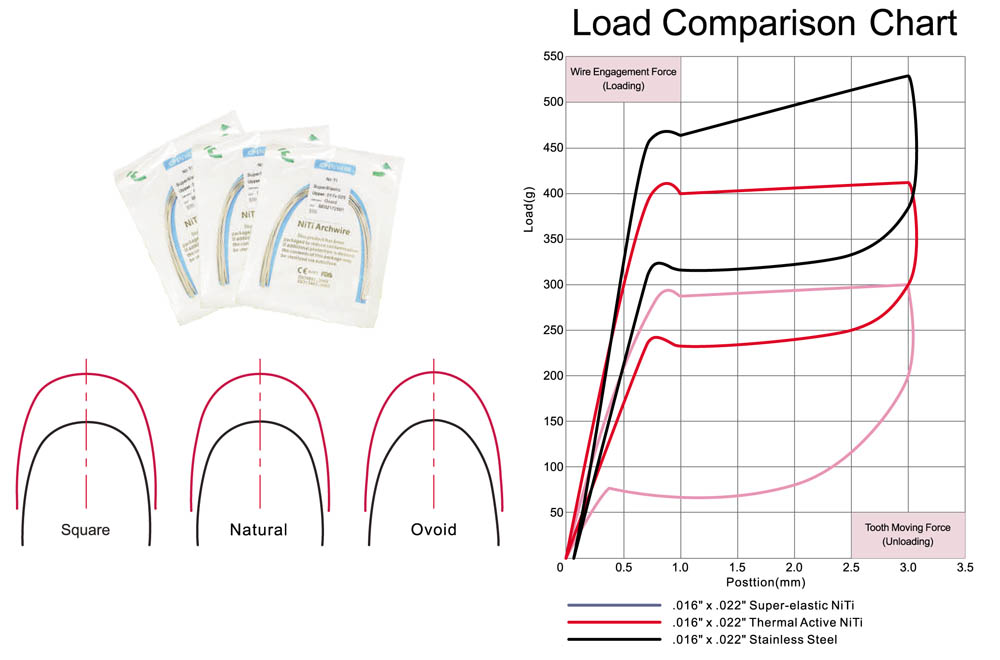 Product No.

Description

Specification

Unit

Packing

F01-1

Niti Archwires -Super elastic
(Upper/Lower, 3 shapes: Oval/Square/Natural)

0.012/0.014/0.016/0.018/0.020/

Pack

10×1

F01-2

Niti Archwires -Super elastic
(Upper/Lower, 3 shapes: Oval/Square/Natural)
0.016x0.016/0.016x0.022
0.017x0.022/0.017x0.025
0.018x0.022/0.018x0.025
0.019x0.025/0.021x0.025

Pack

10×1